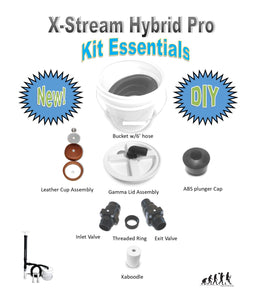 Gold-N-Sand Kit Essentials
Since 2008 our X-Stream Hybrid Pro has gone through a few changes to enhance  performance however we have never changed the length of the pump because of shipping issues.  Bottom line...it costs more to ship bigger boxes. 
This and other factors (tall, small, physically challenged etc.) prompted us to design a kit that provides all the proprietary and hard to get pieces so you can build a custom pump to fit your needs. 
You will need basic carpentry tools, safety glasses, and a warm, well lighted place to work.  
You will also need to go shopping at your local hardware store to get common item we also use.  The list is here
Download the Instructions (PDF)
Tutorials